Irena Veisaitė, literary and theatre scholar and Holocaust survivor, was born on January 9, 1928 in Kaunas, Lithuania, and died on December 11, 2020. She is remembered today at the National Philharmonic Concert Hall in Vilnius.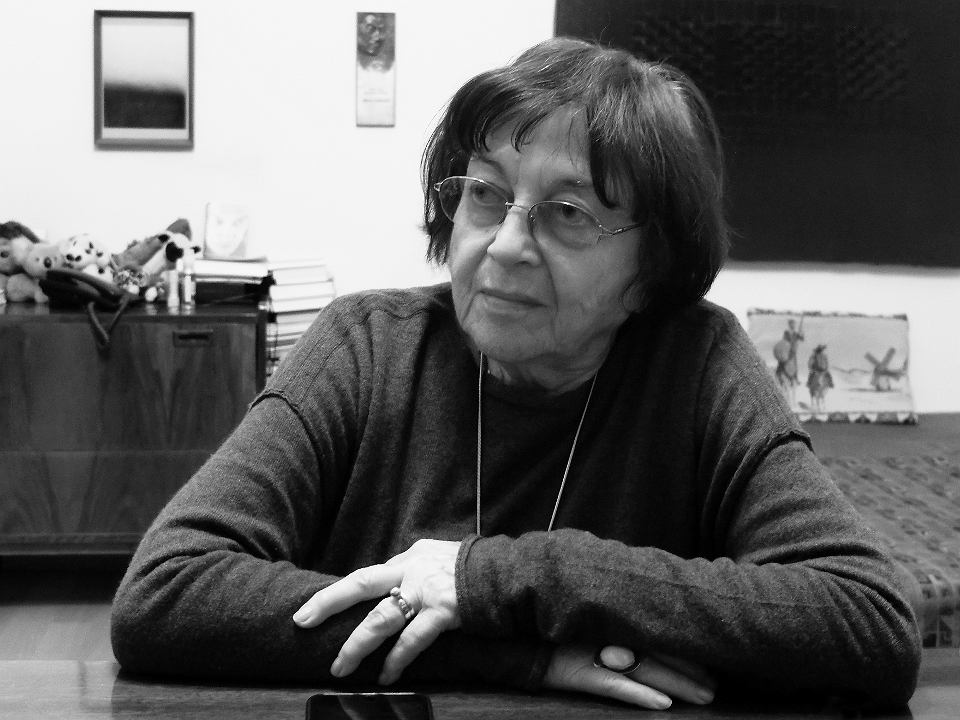 When I landed at Vilnius airport for the first time in my life Irena stood outside waiting for us with a verba, a palm Easter wreath, in her hand. "Welcome to Lithuania!"
We went to Nida. We sat on the slowly shifting dunes by the sea overseeing the Kuršių nerija, a long sand-dune spit, and in the distance, across the water, Königsberg now Kaliningrad. We joked that we could practically see the grave of Immanuel Kant.
Somewhere near was the beach famously visited by Sartre and Beauvoir in the 1960s, and immemorialized in photographs by Antanas Sutkus. Beauvoir wore a beautiful tulband, as you can see in those photos.
At the time I was working on my PhD in philosophy, and I remember trying to convey to Irena why someone of my generation could feel that, at the start of the 21st Century, it was time to move beyond the ideas of Kantian philosophy, which continue to underpin so much of our thinking today.
Knowledge, morality, the polity: these are not necessarily grounded in ideals, in reason, but instead, are always in process, emerge from nature's unfolding, which is where togetherness ultimately derives from.
Irena was having none of it, in a wonderfully patient, uplifting way.
Later, still seated on the moving dunes, we spoke about NATO, and I again tried to convey my experience – which the conversation we were having revealed to be a rather provincial one – of living in 1990s Amsterdam, where communism was not first and foremost a threat, but an inspiration.
Irena stated, calmly and frankly, that only fools think they and their societies don't need NATO. She implied that NATO too, in whatever indirect way, could be regarded as an expression of a polity grounded in the ideal of cosmopolitan peace.
I used to think of our exchange in the Nida dunes as a conversation between generations: the post-war humanist (she) and the post-sixties environmentalist (me). I don't think that anymore, or at least I know now that it is naive to think of our different positions as representing different epochs.
When I think of our exchange now, these last years, as questions of truth, ecology, transnationalism and of what holds polities together are taking on fresh urgency, I feel that time is passing, time has passed. We are now in a different moment than we were then.
It remains possible that we were both right.
Years later, Irena and I were driving through North London, and she talked about the war. At the Highgate intersection – which I believe featured in Doris Lessing's London Observed – she told me of standing in a long queue, with Nazis picking people out, and she, catching the eye of one of them, sensing his uncertainty, not wavering, and passing through.
On New Years Eve 2018 we shared an orange with Irena, some friends and children. It was a moment full of radiance, us gathered around the table in her home, with the dark, cold Vilnius night outside, sharing an orange.